What's New This Week - January 5
I used to do weekly posts featuring new releases in young adult and middle grade and I've decided that it's time to bring that back. I've gotten out of touch with what's coming out and there are so many fantastic books.
Gone Too Far
by Natalie Richards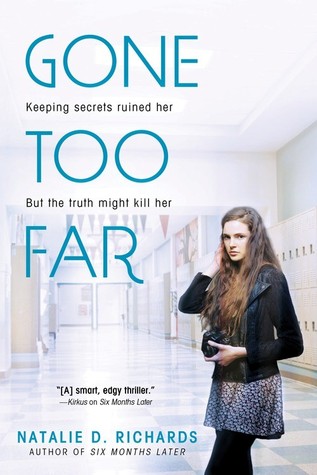 Send me a name. Make someone pay.
Piper Woods can't wait to graduate. To leave high school-and all the annoying cliques-behind. But when she finds a mysterious notebook filled with the sins of her fellow students, Piper's suddenly drowning in their secrets.
And she's not the only one watching...
An anonymous text invites Piper to choose: the cheater, the bully, the shoplifter. The popular kids with their dirty little secrets. And with one text, Piper can make them pay.
But the truth can be dangerous...
There Will Be Lies
by Nick Lake
In four hours, Shelby Jane Cooper will be struck by a car.

Shortly after, she and her mother will leave the hospital and set out on a winding journey toward the Grand Canyon.

All Shelby knows is that they're running from dangers only her mother understands. And the further they travel, the more Shelby questions everything about her past—and her current reality. Forced to take advantage of the kindness of unsuspecting travelers, Shelby grapples with what's real, what isn't, and who she can trust . . . if anybody.
Hold Tight, Don't Let Go
by Laura Rose Wagner
Hold Tight, Don't Let Go follows the vivid story of two teenage cousins, raised as sisters, who survive the devastating 2010 earthquake in Haiti. After losing the woman who raised them in the tragedy, Magdalie and Nadine must fend for themselves in the aftermath of the quake. The girls are inseparable, making the best of their new circumstances in a refugee camp with an affectionate, lively camaraderie, until Nadine, whose father lives in Miami, sends for her but not Magdalie. As she leaves, Nadine makes a promise she cannot keep: to bring Magdalie to Miami, too. Resourceful Magdalie focuses her efforts on a reunion with Nadine until she realizes her life is in Haiti, and that she must embrace its possibilities for love, friendship, and a future.