What's New This Week - January 19
Killing Time in Crystal City
by Chris Lynch
Crystal City called for him, and Kevin answered. And why wouldn't he? His relationship with his father is broken—as is his arm. With barely anyone to miss him or care if he's gone, it seemed like the perfect time for Kevin to run away to his estranged uncle and create an entirely new identity. New name. New attitude. New friends. Maybe even a new girl.

From the first moment of adventure, Kevin's life takes a turn for the exciting. Making friends seems easy with his new persona, especially when a group of homeless beach bums instantly includes him in their crew. But do they like the real Kevin, or the guy he's pretending to be? And will this new lifestyle help Kevin escape from the misery of his former life—or will it drag him right back into the reasons he left home?
All Fall Down
by Ally Carter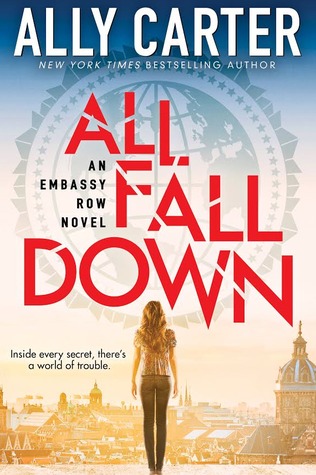 Grace can best be described as a daredevil, an Army brat, and a rebel. She is also the only granddaughter of perhaps the most powerful ambassador in the world and Grace has spent every summer of her childhood running across the roofs of Embassy Row.

Now, at age sixteen, she's come back to stay - in order to solve the mystery of her mother's death. In the process, she uncovers an international conspiracy of unsettling proportions, and must choose her friends and watch her foes carefully if she and the world are to be saved.
The Way We Bared Our Souls
by Willa Strayhorn
Five teenagers sit around a bonfire in the middle of the New Mexico desert. They don't know it yet, but they are about to make the biggest sacrifice of their lives.

Lo has a family history of MS, and is starting to come down with all the symptoms.
Thomas, a former child soldier from Liberia, is plagued by traumatic memories of his war-torn past.
Kaya would do anything to feel physical pain, but a rare condition called CIP keeps her numb.
Ellen can't remember who she was before she started doing drugs.
Kit lost his girlfriend in a car accident and now he just can't shake his newfound fear of death.

When they trade totems as a symbol of shedding and adopting one another's sorrows, they think it's only an exercise.

But in the morning, they wake to find their burdens gone…and replaced with someone else's.

As the reality of the ritual unfolds, this unlikely group of five embarks on a week of beautiful, terrifying experiences that all culminate in one perfect truth: In the end, your soul is stronger than your burdens.