I managed to read 50 books this year, but I wanted to make a top ten list of my favorites. These are not all books that came out this year, they're just books that I happened to read this year. Here they are in no particular order:


Gone by Lisa McMann
The incredible conclusion to Lisa McMann's Wake series. This book was everything I hoped for and more. I roared through it in a single afternoon because there was no way I was putting it down, even for a second.






The Book Thief by Markus Zusak
This is one of my favorite books of all time. It's an incredible book, filled to the brim with beautiful prose. I felt like I was right there with the characters in Nazi Germany. I read it nine months ago and it's still haunting me and I'm not sure if it'll ever stop.
Wintergirls by Laurie Halse Anderson
This book made me laugh, made me cry, gave me goosebumps, and made me open my eyes. The style is unusual but it works perfectly. The writing is so beautiful and lyrical. I haven't been able to look at eating disorders the same way since I read it.
City of Glass by Cassandra Clare
This book was made of awesome. I'm going to read it again soon in preparation for
City of Fallen Angels
and I can't wait. It definitely throws you through a few loops, but this wouldn't be a Clare book if it didn't.
City of Glass
was a very satisfying conclusion to the
Mortal Instruments
series.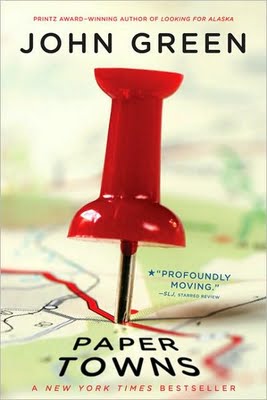 Paper Towns by John Green
This was my first John Green book and also my favorite (so far). This book really nailed what it's like to be a teenager right down to the excellent dialogue and characters. I didn't sleep the night I read it because I just couldn't stop thinking about it.






Clockwork Angel by Cassandra Clare
The first book in Clare's new series,
Infernal Devices.
This series was the perfect combination of
Mortal Instruments
and something completely new. Once I got into the story, I literally carried it around the house so I wouldn't have to put it down. Tessa is my new favorite Clare character and the love triangle is very well done. I'm officially Team Will, but both Will and Jem are amazing guys. Can't wait for the next installment!
Mockingjay by Suzanne Collins

I've heard conflicting opinions about this one, but personally I'm in love with it. I think it was an incredibly powerful and true conclusion to the
Hunger Games
series. It's been four months since I've read it and I'm still not entirely sure what I think about it, but I think that's just
Mockingjay's

way.
The Duff by Kody Keplinger

I read this book in a single afternoon without even noticing and the moment I was done, I couldn't wait to read it again. It portrays high school perfectly and shows it exactly how it is. I loved Bianca a lot and I think we need more YA girls like her. As for Wesley...I couldn't help but love him.

I Am the Messenger by Markus Zusak
This is one of those books that you have to read a few times and really think about it to figure out all its secrets. I finally figured out the ending about a month ago. This book was just pure brilliance. And it really made me think about people and my life.
Personal Demons by Lisa Desrochers

The actual book is just amazing as that incredibly awesome cover. I actually spent an entire class hour reading instead of working because I didn't even notice that time was going by. I'm completely torn between Luc and Gabe in this love triangle, though after this book I'm Team Luc. I can't wait for the sequel!
And those are my top ten books that I read this year. I can't wait to see what next year brings!