I hope everyone had an amazing Christmas! I can't believe this is the last week of 2010. Time travels so fast. I saw the Christmas episode of Doctor Who over the weekend. It. Was. Awesome. I had no idea how much I missed watching new episodes until I saw it.


Fall for Anything
by Courtney Summers
When Eddie Reeves's father commits suicide her life is consumed by the nagging question of
why
?
Why
when he was a legendary photographer and a brilliant teacher?
Why
when he seemed to find inspiration in everything he saw? And, most important,
why
when he had a daughter who loved him more than anyone else in the world? When she meets Culler Evans, a former student of her father's and a photographer himself, an instant and dangerous attraction begins. Culler seems to know more about her father than she does and could possibly hold the key to the mystery surrounding his death. But Eddie's vulnerability has weakened her and Culler Evans is getting too close. Her need for the truth keeps her hanging on...but are some questions better left unanswered?
Virals
by Kathy Reichs
Tory Brennan, niece of acclaimed forensic anthropologist Temperance Brennan (of the Bones novels and hit TV show), is the leader of a ragtag band of teenage "sci-philes" who live on a secluded island off the coast of South Carolina. When the group rescues a dog caged for medical testing on a nearby island, they are exposed to an experimental strain of canine parvovirus that changes their lives forever.


As the friends discover their heightened senses and animal-quick reflexes, they must combine their scientific curiosity with their newfound physical gifts to solve a cold-case murder that has suddenly become very hot—if they can stay alive long enough to catch the killer's scent.


Fortunately, they are now more than friends— they're a pack. They are Virals.
Pegasus
by Robin McKinley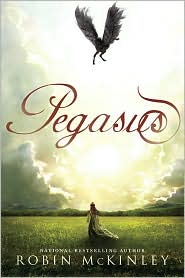 Because of a thousand-year-old alliance between humans and pagasi, Princess Sylviianel is ceremonially bound to Ebon, her own Pegasus, on her twelfth birthday. The two species coexist peacefully, despite the language barriers separating them. Humans and pegasi both rely on specially-trained Speaker magicians as the only means of real communication.
But its different for Sylvi and Ebon. They can understand each other. They quickly grow close-so close that their bond becomes a threat to the status quo-and possibly to the future safety of their two nations.