New Releases: Legacies, Siren, Blindsided, and X Isle
I'm addicted to Pandora radio. I tried it a couple years ago and didn't really like it. Came back yesterday because AOL radio annoys the crap out of me and haven't left since.
I realized this morning that I haven't done one of these in awhile so here are four new YA releases. (Usually I only do three but I couldn't narrow it down so I just decided to feature all four).
Legacies by Mercedes Lackey and Rosemary Edghill
First Book in the Shadow Grail series
In the wake of the accident that killed her family, Spirit White is spirited away to Oakhurst Academy, a combination school and orphanage in the middle of Montana. There she learns she is a legacy—not only to the school, which her parents also attended, but to magic.
All the students at Oakhurst have magical powers, and although Spirit's hasn't manifested itself yet, the administrators insist she has one. Spirit isn't sure she cares. Devastated by the loss of her family, she finds comfort with a group of friends: Burke Hallows, Lachlann Spears, Muirin Shae, and Adelaide Lake.
But something strange is going on at Oakhurst. Students start disappearing under mysterious circumstances, and the school seems to be trying to cover it up. Spirit and her friends must find out what's happening—before one of them becomes the next victim…
Seventeen-year-old Vanessa Sands is afraid of everything--the dark, heights, the ocean--but her fearless older sister, Justine, has always been there to coach her through every challenge. That is until Justine goes cliff diving one night near the family's vacation house in Winter Harbor, Maine, and her lifeless body washes up on shore the next day.
Vanessa's parents want to work through the tragedy by returning to their everyday lives back in Boston, but Vanessa can't help feeling that her sister's death was more than an accident. After discovering that Justine never applied to colleges, and that she was secretly in a relationship with longtime family friend Caleb Carmichael, Vanessa returns to Winter Harbor to seek some answers.
But when Vanessa learns that Caleb has been missing since Justine's death, she and Caleb's older brother, Simon, join forces to try to find him, and in the process, their childhood friendship blossoms into something more.
Soon it's not just Vanessa who is afraid. All of Winter Harbor is abuzz with anxiety when another body washes ashore, and panic sets in when the small town becomes home to a string of fatal, water-related accidents . . . in which all the victims are found grinning from ear to ear.
As Vanessa and Simon probe further into the connections between Justine's death and the sudden rash of creepy drownings, Vanessa uncovers a secret that threatens her new romance, and that will change her life forever.
Blindsided by Priscilla Cummings
In many ways, Natalie O'Reilly is a typical fourteenyear- old girl. But a routine visit to the eye doctor produces devastating news: Natalie will lose her sight within a few short months.
Suddenly her world is turned upside down. Natalie is sent to a school for the blind to learn skills such as Braille and how to use a cane. Outwardly, she does as she's told; inwardly, she hopes for a miracle that will free her from a dreaded life of blindness. But the miracle does not come, and Natalie ultimately must confront every blind person's dilemma. Will she go home to live scared? Or will she embrace the skills she needs to make it in a world without sight?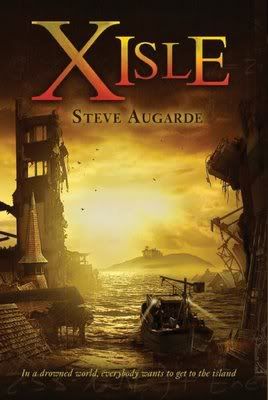 Ever since the floods came and washed the world away, survivors have been desperate to win a place on X-Isle, the island where life is rumored to be easier than on what's left of the mainland. Only young boys stand a chance of getting in, the smaller and lighter the better. Baz and Ray are two of the lucky few to be chosen, but they soon discover that X-Isle is a far cry from paradise. Ruled by Preacher John, a dangerous religious fanatic, it's a violent, unpredictable place, where terrible things can happen at any moment. The boys hatch an extraordinary plan in order to protect themselves-the construction of a mighty weapon of defense. But can they complete this weapon in time, and are they really prepared to use it to secure their freedom?