New Releases - The Maze Runner, Betraying Season, Hold Still
The Maze Runner by James Dashner
October 6, 2009
When Thomas wakes up in the lift, the only thing he can remember is his first name. His memory is blank. But he's not alone. When the lift's doors open, Thomas finds himself surrounded by kids who welcome him to the Glade—a large, open expanse surrounded by stone walls.
Just like Thomas, the Gladers don't know why or how they got to the Glade. All they know is that every morning the stone doors to the maze that surrounds them have opened. Every night they've closed tight. And every 30 days a new boy has been delivered in the lift.
Thomas was expected. But the next day, a girl is sent up—the first girl to ever arrive in the Glade. And more surprising yet is the message she delivers.
Thomas might be more important than he could ever guess. If only he could unlock the dark secrets buried within his mind.
Betraying Season by Marissa Doyle
September 29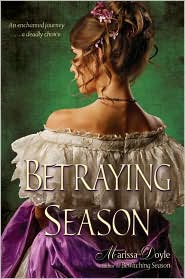 Penelope (Pen) Leland has come to Ireland to study magic and prove to herself that she is as good a witch as her twin sister, Persy. But when the dashing Niall Keating begins to pay her court, she can't help being distracted from her studies.
Little does Pen know, Niall is acting upon orders from his sorceress mother. And although it starts as a sham, Niall actually falls deeply in love with Pen, and she with him. But even if he halts his mother's evil plan, will Pen be able to forgive him for trying to seduce her into a plot? And what of Pen's magic, which seems to be increasingly powerful?
Hold Still by Nina LaCour
October 20
An arresting story about starting over after a friend's suicide, froma breakthrough new voice in YA fiction
dear caitlin, there are so many things that i want so badly to tell you but i just can't.
Devastating, hopeful, hopeless, playful . . . in words and illustrations, Ingrid left behind a painful farewell in her journal for Caitlin. Now Caitlin is left alone, by loss and by choice, struggling to find renewed hope in the wake of her best friend's suicide. With the help of family and newfound friends, Caitlin will encounter first love, broaden her horizons, and start to realize that true friendship didn't die with Ingrid. And the journal which once seemed only to chronicle Ingrid's descent into depression, becomes the tool by which Caitlin once again reaches out to all those who loved Ingrid—and Caitlin herself