Timeless
by Alexandra Monir
When tragedy strikes Michele Windsor's world, she is forced to uproot her life and move across the country to New York City, to live with the wealthy, aristocratic grandparents she's never met. In their old Fifth Avenue mansion filled with a century's worth of family secrets, Michele discovers a diary that hurtles her back in time to the year 1910. There, in the midst of the glamorous Gilded Age, Michele meets the young man with striking blue eyes who has haunted her dreams all her life – a man she always wished was real, but never imagined could actually
exist.
And she finds herself falling for him, into an otherworldly, time-crossed romance.
Michele is soon leading a double life, struggling to balance her contemporary high school world with her escapes into the past. But when she stumbles upon a terrible discovery, she is propelled on a race through history to save the boy she loves – a quest that will determine the fate of both of their lives.
The False Princess
by Ellis O'Neal
Princess and heir to the throne of Thorvaldor, Nalia's led a privileged life at court. But everything changes when it's revealed, just after her sixteenth birthday, that she is a false princess, a stand-in for the real Nalia, who has been hidden away for her protection. Cast out with little more than the clothes on her back, the girl now called Sinda must leave behind the city of Vivaskari, her best friend, Keirnan, and the only life she's ever known.
Sinda is sent to live with her only surviving relative, an aunt who is a dyer in a distant village. She is a cold, scornful woman with little patience for her newfound niece, and Sinda proves inept at even the simplest tasks. But when Sinda discovers that magic runs through her veins - long-suppressed, dangerous magic that she must learn to control - she realizes that she can never learn to be a simple village girl.
Returning to Vivaskari for answers, Sinda finds her purpose as a wizard scribe, rediscovers the boy who saw her all along, and uncovers a secret that could change the course of Thorvaldor's history, forever.
Warped
by Maurissa Guibord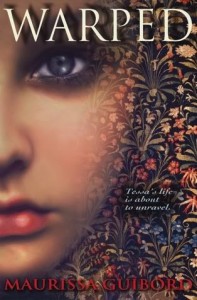 Tessa doesn't believe in magic. Or Fate. But there's something weird about the dusty unicorn tapestry she discovers in a box of old books. She finds the creature woven within it compelling and frightening. After the tapestry comes into her possession, Tessa experiences dreams of the past and scenes from a brutal hunt that she herself participated in. When she accidentally pulls a thread from the tapestry, Tessa releases a terrible centuries old secret. She also meets William de Chaucy, an irresistible 16th-century nobleman. His fate is as inextricably tied to the tapestry as Tessa's own. Together, they must correct the wrongs of the past. But then the Fates step in, making a tangled mess of Tessa's life. Now everyone she loves will be destroyed unless Tessa does their bidding and defeats a cruel and crafty ancient enemy.